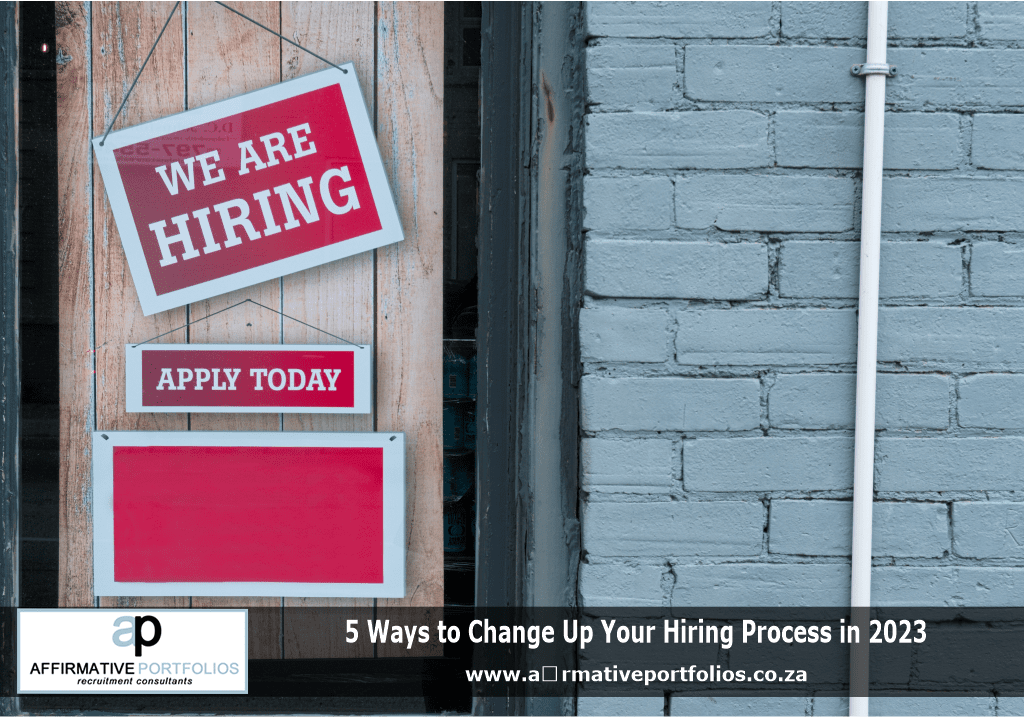 The hiring process can make or break a company. That's because the heart of a business is its staff. Get the hiring process right, and you'll have a dream team. On the other hand, get it wrong, and the business could greatly suffer. Not to mention how much time and money you might waste hiring the wrong people! At Affirmative Portfolios, we get how important recruitment is for businesses and how often it can go wrong.
How to Identify a Poor Hiring Process
The first question to ask yourself is, what are you doing wrong? Some common signs that your need to change your hiring process include the following:
The process takes too much time
New hires leave quickly
New hires aren't productive
If those signs ring true for your company, these hiring process tips will help you change your ways for 2023. Need more tips for recruiting suitable candidates? Our blog has tons of great information on the recruitment process.
1. Start by Improving the Job Description
The job description either reels in the right people or doesn't. If yours doesn't, it's time to change it up. Avoid overused, outdated phrases like "proven track record" and "fast-paced environment." Instead, be specific with your requirements, detailing the expectations with clarity. Also, keep the focus on the particular role and company rather than writing a generic job description that could apply to any similar role.
Read Next: 5 Things that Make a Winning LinkedIn Profile 
2. Utilise Social Media
Consider branching out when looking for new hires by checking out social media. Specific social media platforms are better for finding permanent hires than others. For example, LinkedIn is a professional social media site with tons of potential candidates just waiting for your first message.
3. Get More People on the Hiring Team
If your hiring process didn't work well in 2022, it's time to change things in 2023 by getting new people on the hiring team. The change in perspectives might lead to some of the best hires you've ever had!
4. Use a Skills Assessment Test
Do you find that your current hiring process fails to show you who is best for the role? If so, a skills assessment test can help. A skill assessment test is a test you provide to candidates during recruitment to whittle down numbers. There are different types of tests, including examinations on software skills, languages, and programming – you can even tailor them to your company.
5. Use a Recruitment Agency
Using a recruitment agency is the way forward if the hiring process simply takes too much time, energy, and stress. At Affirmative Solutions, we provide candidate sourcing, assessments, evaluations, headhunting, and more. We also use various methods to locate the ideal candidate for your particular role, including social networks and job portals.
Kickstart Your New Hiring Process with Affirmative Portfolios
Let the experts take care of recruitment this coming year, and you will have far better, more qualified hires on your team. Get in contact with our friendly team if you have any questions about our recruitment service!
Now Read: 5 Reasons to Start Your Career Using a Recruitment Agency