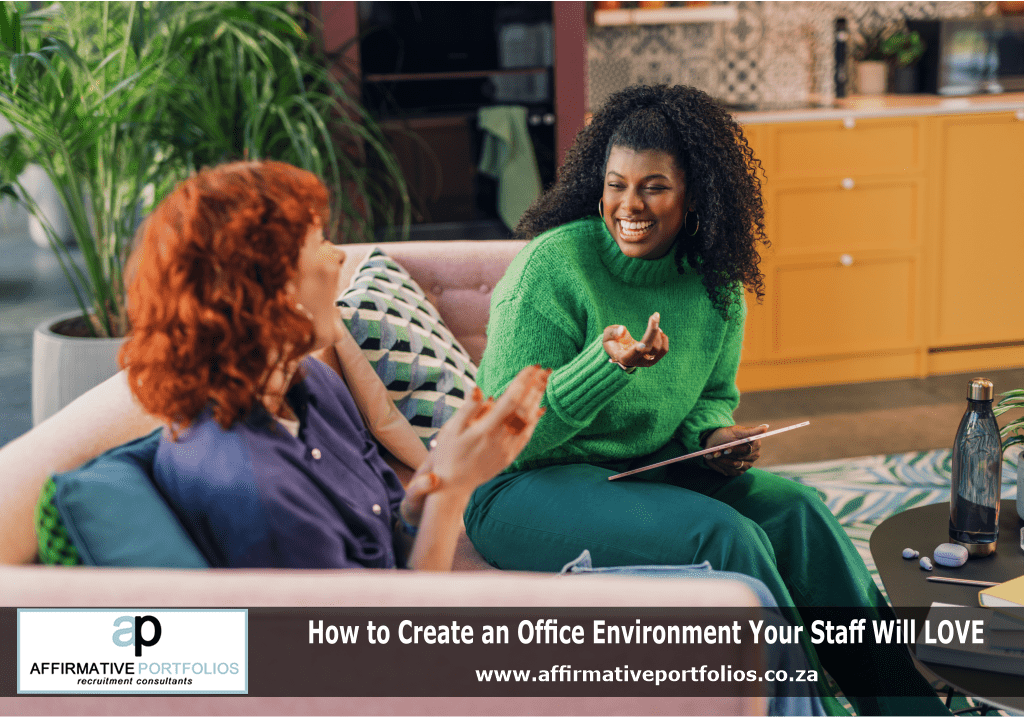 When was the last time you redecorated the office? Business owners often don't pay much attention to their office environment. That can be detrimental to the business, especially where employee happiness and retention are concerned. Take it from us here at Affirmative Portfolios – a healthy office environment is crucial for a successful business.
Why the Office Environment Matters
The office environment matters because it's where you and your staff members spend the majority of their waking work day. In a comfortable, enjoyable atmosphere, they are more likely to be productive and feel happy about where they work. However, the office's mood will dip in an uncomfortable environment, leading to poor performance and potentially even a high turnover rate.
Luckily, we know precisely how to create an office environment your staff will love – you can find out exactly how below. Also, don't forget to check out our other blog posts!
Provide Comfortable, Stylish Furniture
An office's furniture can make or break the environment. Your goal is to provide furniture that is both stylish and comfortable. Consider ergonomics, especially when it comes to desks and office chairs. Do your research and purchase high-quality items, so that your employees don't suffer from back and neck problems.
Read Next: 5 Ways to Change Up Your Hiring Process in 2023 
Add Attractive Lighting
Have you noticed how much lighting can affect an atmosphere and overall mood? Attractive lighting will make a massive difference in the office. Ditch the bright, fluorescent lighting that seems to give people headaches and instead opt for layered lighting that brightens the room without being too harsh. Balance this with natural light, too, as sunlight will naturally lift the office's mood.
Get a Good Coffee Machine
As a business owner or manager, you likely know how much office workers enjoy their coffee. Invest in a great coffee machine that makes the best cup of joe every time to make them happy and improve the overall office atmosphere. Even just the smell in the morning will be enough to lighten the mood!
Create a Separate Hangout Space
Separating work from play is a delicate balancing act, especially in an office. You want your employees to be productive during their work hours, but also feel like they can relax during their breaks. To do this, provide a separate hangout space where people can go for a casual chat or a breather. Decorate it comfortably with wall art and comfortable furniture, not forgetting some entertainment like a TV or a pool table!
Include Finishing Décor Touches
It's the little things that make an office more inviting. That's why it's important to finish with little décor touches. Plenty of greenery, some hanging art, and a bookcase full of interesting reads will go a long way when it comes to providing an office your employees adore.
Find Your New Hires at Affirmative Portfolios
You now know how to decorate an office that employees love. What about filling that office with employees? If you want to build your ideal team, we at Affirmative Portfolios can help you find the perfect permanent and temporary candidates. Get in touch if you have any questions.
Now Read: 5 Ways to Separate Yourself from Other Job Candidates