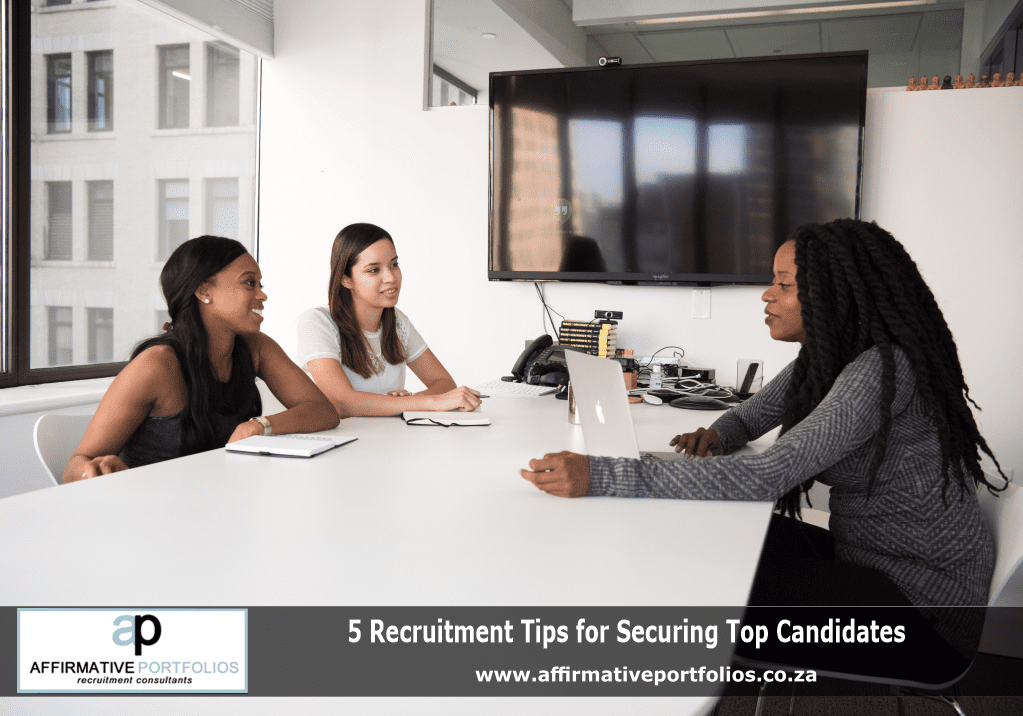 A lack of skilled, go-getting candidates is one of the biggest concerns to business owners today. To grow, you need the talents of hard-working, skilled workers who love your company and are happy to think outside of the box to help you meet your goals. Employees that are happy where they are enhancing productivity, reducing turnover, and encouraging growth within the company. Finding and securing these top candidates, however, can be a challenge. That's where these recruitment tips come in. Affirmative Studios is a top recruitment agency; we know what it takes to get the best of the best working for you.
Top Five Recruitment Tips to Secure To Secure Top Candidates Today
You can start improving your recruitment strategy to secure top candidates today by using these top five recruitment tips by our expert team here at Affirmative Portfolios. For more information about hiring and managing a winning workforce, visit our blog.
1. Clearly Define Each Job Role and Posting
When it comes to securing top candidates, you first need to have a clear idea of who it is you want for the role. To do that, you'll need to definitively outline the job role and responsibilities and then work on crafting your ideal candidate from there. This will help your HR team or our specialists pair top candidates every time.
Read Next: The 7 Must-Dos During an Interview (For Employers)
2. Be Competitive in Pay and Benefits
If you want the best, you need to offer the best. Offer a competitive salary, the promise of raise increases to match inflation, and other top benefits like flexible or remote working to attract top talent.
3. Improve Your Employer Branding
Top candidates have their pick of employers. To entice the best of the best, you'll need to offer an excellent work/life balance and working culture. Everything you do needs to be marketed so that your overall employer branding improves and the workforce knows you as a top employer to work for.
4. Get Your Team Involved
If you want your hire to work seamlessly with your existing teams, you'll need to have the team in question give their input. They know what they need out of your candidate best, so working alongside your employees will help you hire the best personality for the job and the most skilled.
5. Have a Recruitment Agency Handle Your Strategy
Hiring well requires a comprehensive recruitment strategy, time, and energy. You don't want to just passively sit by, and you want to actively be hunting down the next great candidate. Recruitment agencies like Affirmative Portfolios can help you from strategy to hire, so you can focus on improving your company from the bottom up.
Bring in Better Candidates Today with Affirmative Portfolios
You need a clear idea of who you want for the job, a winning company culture, and a pay package to attract top talent and specialists who can create a seamless recruitment strategy from start to finish to secure the top candidates. These recruitment tips are just the start. To revamp your strategy get in touch with our experts here at Affirmative Portfolios.